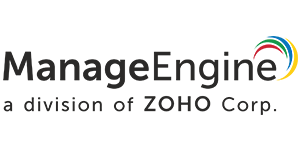 12th, 14th, 19th, 20th, 21st, 26th, 27th, & 28th of October 2021
Thought-leadership webinars

Why attend this webinar?
Attend our exclusive webinar and learn how ADManager Plus will help you provide the much-needed ability to delegate routine Active Directory, Exchange, Office 365 and Google Workspace management tasks to non-admin users and also backup all changes in AD and recover AD objects without any hassles.
In this webinar, we will show you how to:
Delegate Active Directory, Office 365 and Google Workspace management and reporting capabilities to help desk technicians without elevating their privileges in Native.

Site based delegation on AD Operation.

Granularly backup all AD objects like users, groups, GPOs, OUs, Exchange attributes, computers, contacts, etc.

Recover your AD objects completely or granularly without restarting your domain controllers.

Avoid wasting storage space with incremental backups.

Restore individual attributes of AD objects to any of their backed-up states.

Why attend this webinar?
Sign up for our free webinar for tips on how to provide a seamless experience with policy-driven configurations for employees, partners, and vendors alike.
In this webinar, you'll learn how to:
Enhance productivity by automating routine and tedious tasks.

Grant time and role-based privileges to users with self-service workflows.

Reduce concerns surrounding ex-employee accounts with automated identification and removal.

Empower managers to grant permissions for assets to employees.

Capture a complete compliance audit trail and gain security insights with script-free reporting.

Why attend this webinar?
A recent Gartner survey revealed that 47% of company leaders intend to allow employees to work remotely full-time. If users in your organization face constant trouble with remote password management, then this webinar is for you.
Agenda:
Schedule password expiration notifications to remote users.

Windows machine password resets for remote workers- The ADSelfService Plus way.

Secure Remote desktops with two-factor authentication (2FA).

Why attend this webinar?
Threat intelligence is evidence-based knowledge about existing or emerging hazards to data that can be used to make the right response decisions. Using threat intelligence, you can receive information about malicious domains, URLs, IP addresses and more.
You can then correlate this information with other threat data to make your cybersecurity more effective. Over the last few years, this has become an essential capability of any next-gen security operations center. But how exactly do you get started?
Attend this webinar to learn more.
Agenda:
The fundamentals of threat intelligence: What is it and why is it important?

Bringing threat intelligence data into your SOC.

Analyzing threat intelligence reports and using system-generated recommendations.

Correlating other threat data with threat intelligence to build context.

Threat intelligence of the future.

Live demo of how ManageEngine Log360 applies threat intelligence.

Why attend this webinar?
With the MITRE ATT&CK framework, you can understand the modus-operandi of potential attackers, and be better prepared to defend your organization. But how exactly can you use this framework within your SIEM solution to derive actionable security analytics? And how can you use these security analytics for efficient threat detection and response?

Join us in this webinar to learn more.
Agenda:

The tactics, techniques and procedures covered in the MITRE ATT&CK framework.

Bringing MITRE ATT&CK into a SIEM for enhanced threat detection.

Using automated incident response capabilities to mitigate attacks.

Live demo of how ManageEngine Log360 applies MITRE ATT&CK.

Why attend this webinar?
Even as the IT threat landscape continues to evolve at an alarming rate, Gartner predicts that the market for UBA will grow steeply in the years to come. This growth can be attributed to a UBA solution's insider threat and compromised account detection features, which are found wanting in existing security solutions.

If you're not familiar with UBA already, it's about time you got acquainted.
Agenda:
Why UBA is needed.

Working principle of UBA.

UBA vs. rogue insiders exfiltrating data.

UBA vs. compromised account lateral movement.

UBA vs. malware attacks, and more.

Why attend this webinar?
Witness first-hand how ManageEngine's ADAudit Plus can help you easily meet the security and compliance needs in your Windows Server environment.
Be a part of this live demo and learn how to:
Audit your Windows AD environment in real time, the easy way.

Identify the source of account lockouts.

Get real-time alerts via email whenever a configured AD change event occurs.

Audit every single change made to Group Policy Objects.

Fend off insider threats with User Behavior Analytics.

Monitor and report on Service Accounts in your AD environment.

Why attend this webinar?
Password-related issues plague most IT help desks and put their productivity on low gear. If you are one of those affected admins/help desk staffs looking for a turnaround, look no further.

Join the exclusive product demo of our integrated Active Directory self-service password management and single sign-on solution — ADSelfService Plus, and learn how to empower users, in a secure way, to handle their passwords on their own.
Agenda:
Easily install and configure ADSelfService Plus.

Allow domain users to self-reset their forgotten passwords and self-unlock their locked out accounts from anywhere, at anytime.

Enforce separate strong password policies based on OUs and Groups.

Leverage MFA for password self-service actions and domain logins.

Notify users about their impending password expiration.

Implement SSO to provide one click access to 100+ cloud applications.
Alternatively you may call +35722256811 in Cyprus and in Greece +302109340288 for more information.