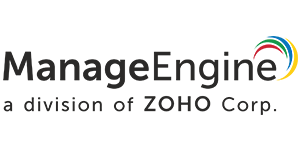 9th, 15th, 16th 17th, 22nd, 23rd & 24th of February 2022

Why attend this webinar?
Password resets and account unlocks constitute almost 50% of IT support requests. When a single password reset call can cost a business $70, the expenses quickly add up.
Save invaluable time and money by giving your users the power to perform their own password resets, account unlocks, and directory updates. In this webinar, our product expert Sharada Murthy will demonstrate three key AD tasks you should leave to your users to reduce the load on IT support and increase overall productivity.
Agenda:
Directory self-update.

Self-service password reset.

User account self-unlock.

Why attend this webinar?
Witness first-hand how ManageEngine's ADAudit Plus can help you easily meet the security and compliance needs in your Windows Server environment.
Be a part of this live demo and learn how to:
Audit your Windows AD environment in real time, the easy way.

Identify the source of account lockouts.

Get real-time alerts via email whenever a configured AD change event occurs.

Audit every single change made to Group Policy Objects.

Fend off insider threats with User Behavior Analytics.

Monitor and report on Service Accounts in your AD environment.

Why attend this webinar?
For IT administrators, it can be a challenge to work in tandem with HR to carry out activities like employee onboarding and offboarding. By unifying your Active Directory with enterprise human resource management system (HRMS) tools, you can effortlessly synchronize and protect employee data across platforms.
By attending this webinar, you will learn to:
Improve the efficiency of the hiring and offboarding process.

Handle employee modifications in bulk.

Eliminate dependency on HR teams.

Align your business needs with IT processes.

Automate the process to reduce data entry errors.

Why attend this webinar?
Learn how our SIEM solution – Log360, will help you thwart internal security attacks, defend your network from external attacks, protect confidential information, and meet the demanding requirements of compliance mandates.
Be a part of this live demo and learn about:
The log management process.

Reporting on crucial security events.

Searching through logs.

Triggering alerts on detecting threats.

Discovering attack patterns with the correlation engine.

Managing and responding to incidents.

Add-ons: UEBA and advanced threat analytics.

Why attend this webinar?
Even as the IT threat landscape continues to evolve at an alarming rate, Gartner predicts that the market for UBA will grow steeply in the years to come. This growth can be attributed to a UBA solution's insider threat and compromised account detection features, which are found wanting in existing security solutions.
If you're not familiar with UBA already, it's about time you got acquainted.
Agenda:
Why UBA is needed.

Working principle of UBA.

UBA vs. rogue insiders exfiltrating data.

UBA vs. compromised account lateral movement.

UBA vs. malware attacks, and more.

Why attend this webinar?
It's always better to be proactive than reactive in any sphere of life. This principle holds true in cybersecurity too. Attackers have become sophisticated; so organizations need to preempt and predict their moves to protect themselves. At the same time, they also need to react well in case an attack does take place. Attend this webinar to gain insights into a layered defense strategy that includes being proactive and reactive.
What will be covered?
The differences between a proactive and reactive approach to cybersecurity.

Proactive security: What steps can organizations take?

Reactive security: What steps can organizations take?

Technical safeguards for proactive security: How to deploy anomaly detection and threat intelligence.

Technical safeguards for reactive security: How to perform forensic analysis and incident response.

Why watch this webinar?
Active Directory (AD) is a crucial part of any organization, and any undesirable change could result in unplanned downtime and monetary loss. So, it's paramount to protect your AD against such disasters. Attend our exclusive webinar and learn how ADManager Plus will help you backup all changes in AD and recover AD objects without any hassles.
In this webinar, you'll learn how to:
Granularly backup all AD objects like users, groups, GPOs, OUs, Exchange attributes, computers, contacts, etc.

Recover your AD objects completely or granularly without restarting your domain controllers.

Avoid wasting storage space with incremental backups.

Restore individual attributes of AD objects to any of their backed-up states.

Why attend this webinar?
Witness first-hand how our data visibility and security solution DataSecurity Plus will help you discover, monitor, and protect the sensitive data in your environment.
Be a part of this live demo and learn how to:
Monitor file integrity and gain visibility into all file accesses and changes.

Detect and respond to potential ransomware attacks and anomalous file activities.

Locate and analyze personal data (PII, PCI, and ePHI) to meet the stringent requirements of various compliance mandates.

Get insights on who has what permission over your critical files and folders.

Minimize the attack surface by managing inactive and junk data.

Prevent sensitive data leaks via USBs, email, and more.
Alternatively you may call +35722256811 in Cyprus and in Greece +302109340288 for more information.