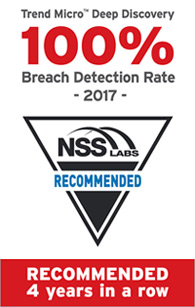 {rsform 13}
Deep Discovery staves off advanced threats and ransomware with industry-leading effectiveness
NSS Labs recently put 7 breach detection systems to the test for the Breach Detection Systems Report.
This year, Trend Micro was perfect, scoring 100% in Breach Detection, including 100% detection of evasions. And, for the 4th year in a row, Deep Discovery has been named a "Recommended" Breach Detection System.
Year after year, Trend Micro continues to demonstrate leadership in breach detection, proving that Deep Discovery is your solution to stave off advanced threats and ransomware.
To learn more, download a copy of Trend Micro's 2017 NSS Labs Breach Detection Systems Test results.


Today's advanced threats are sneakier, cleverer, and craftier than ever. They do their best to evade detection, infiltrate your network, and blend in so they don't raise suspicion. Once inside, they move across your network looking for whatever they can profit from.
That's why you need Trend Micro™ Deep Discovery™. Powered by XGen™ security, it uses a cross-generational blend of threat defense techniques to detect advanced threats entering, exiting, or moving laterally across the network. It provides custom sandboxing which uses anti-evasion techniques to make it nearly impossible for advanced threats to elude detection. And it's why Trend Micro achieved 100% detection rate and 100% evasion detection in the 2017 NSS Labs Breach Detection System report.